How to Decorate for Christmas 2022
It is that time of year again and you may be feeling overwhelmed by your holiday to-do list. Christmas can be magical but it can also be very busy. This how to decorate for Christmas guide is going to take you step by step through ways that you can add Christmas to your home this year.
All of these simple decorating for Christmas ideas will make it easy for you to add that holiday charm to your home without all the stress. I will take you through my favorite ways to decorate for Christmas including photos that I hope will inspire you. Let's get started.
1. Put Up a Christmas Tree
If you only add one element of Christmas to your home let it be a Christmas tree! It is the easiest way to add the magic of Christmas to your home. There are many options for what kind of tree you can add to your home and I am going to share some of my favorites.
Flocked Christmas Tree
A flocked Christmas tree adds that snow-covered look. The branches are covered in a white powdery mixture to replicate real snow. They are so beautiful.
Related: if you are looking for the perfect flocked Christmas tree check out this post.
" Affiliate links provided for your convenience, please read my disclosure for more information."
Naked Christmas Tree
A naked Christmas tree is the easiest and quickest option. "Naked" just means it only has lights and no other decorations. They are magical all on their own and if you're looking for an easy budget-friendly option this is for you. I am personally a big fan of a naked tree!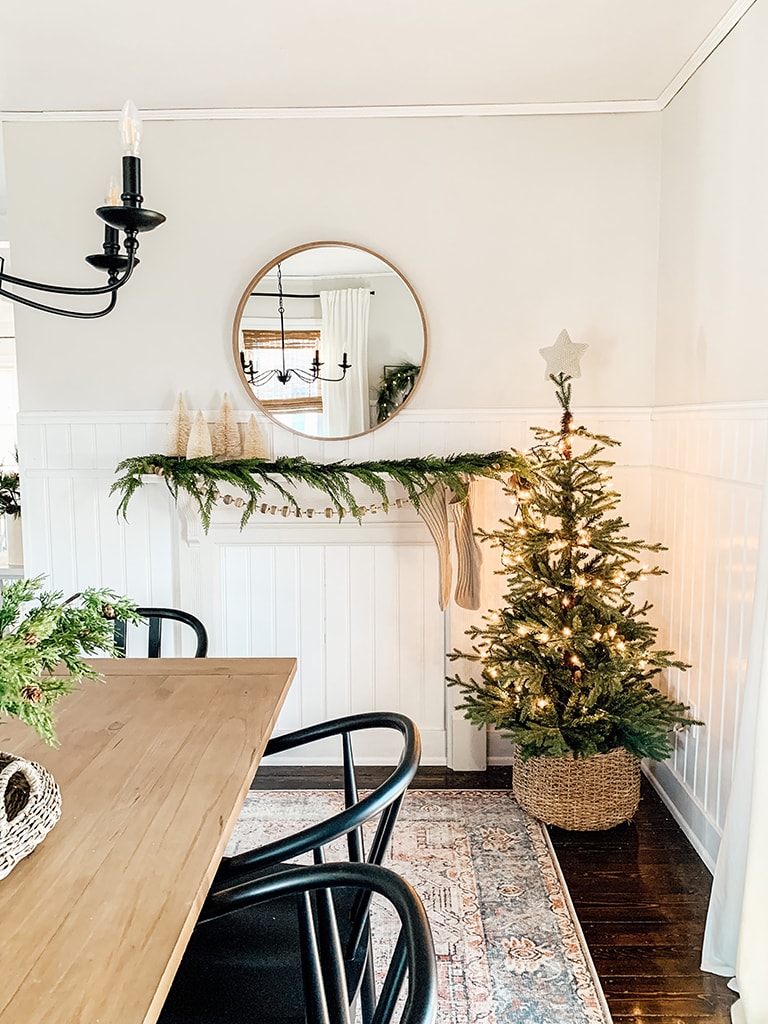 Decorated Christmas Tree
A decorated artificial Christmas tree is the most common type of Christmas tree and can be customized any way you like. The decorating options are endless and can be fun for the whole family.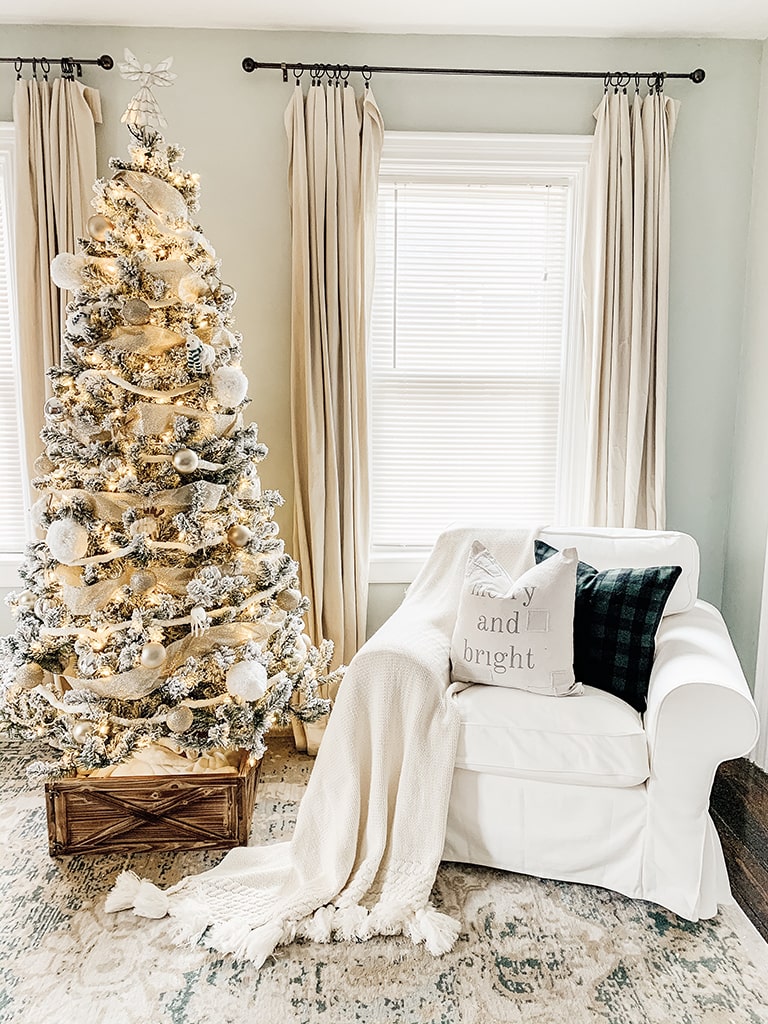 Real Christmas Tree
A real Christmas tree is a must for my family and makes a great family tradition. There is nothing more fun than going to the tree farm with a warm hot chocolate and getting your tree freshly cut. Not to mention the amazing smell that comes with having a real tree in your home.
Of course, it does have its downfalls. It can be expensive because you have to get a new one every year as opposed to an artificial tree. They also can get messy and you have to remember to water them. I think the pros outweigh the cons.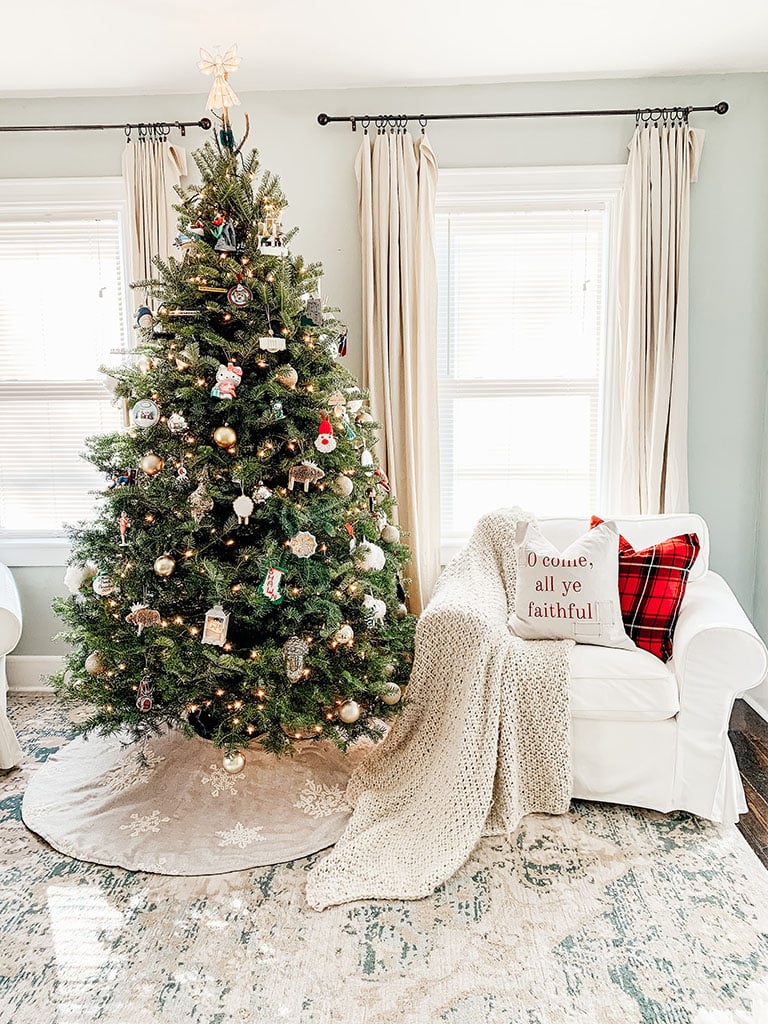 2. Add a Wreath or Two
A wreath is another simple way to decorate for Christmas. You can use them in a variety of ways throughout your home. There are endless options for the overall look and the option of getting real fresh wreaths. Below are some ways that I have used wreaths in my own home.
Interior or Exterior of Door
The most common place to add a wreath is on the exterior of your front door. This adds some great holiday cheer to the outside of your home. Did you know you can also add them to your interior doors as well? Below is an example.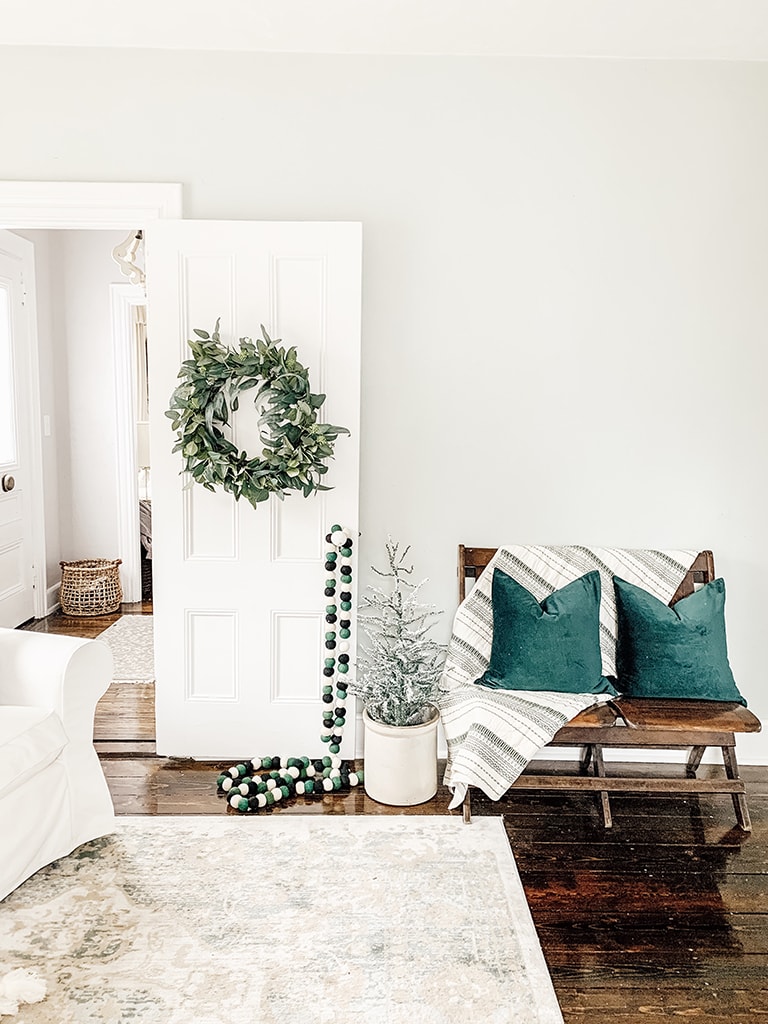 Interior or Exterior Windows
I love the look of wreaths on exterior windows especially on a big colonial with the little candles in the windows. It is so pretty. We actually do have a colonial and I have always wanted to add wreaths to the exterior windows. It can be a lot of work and can be expensive depending on how many windows you have. Maybe this year!
Another creative way to use wreaths on your windows is to add them to the inside! You can add decorative ribbon to hang them and then just use a small tack to attach them to the top of your window.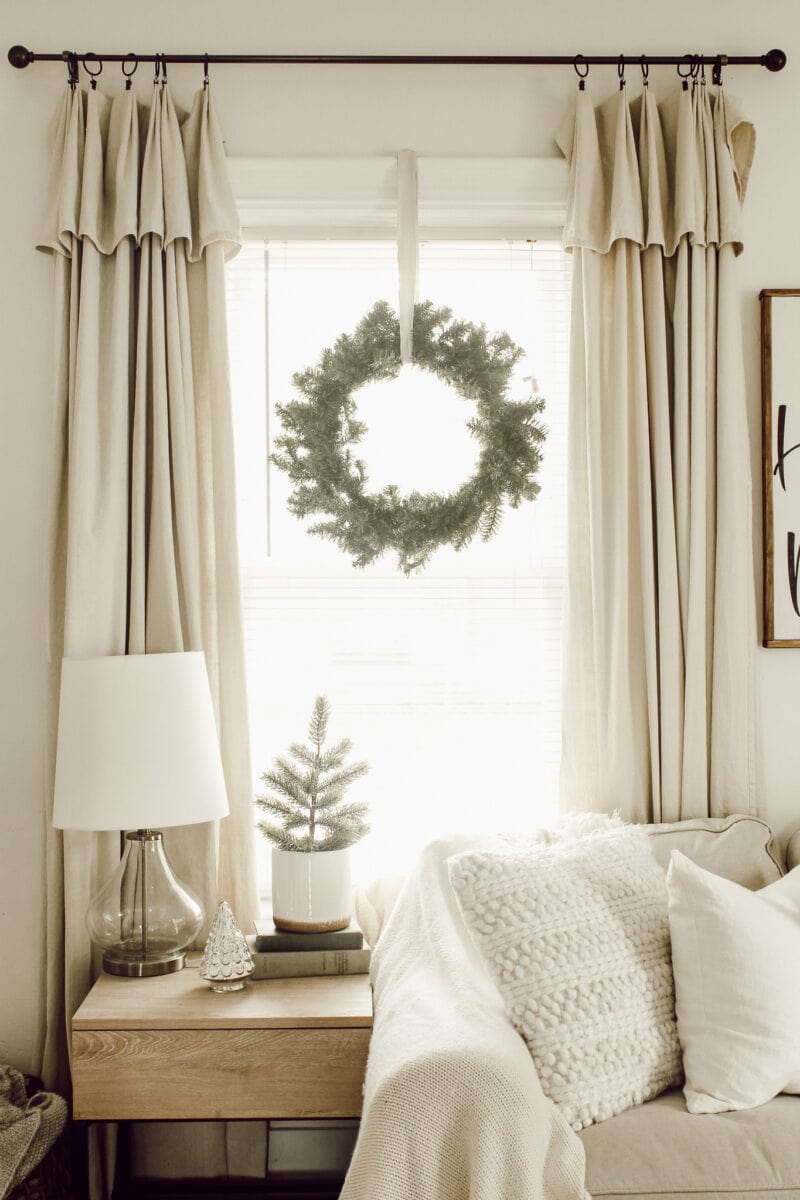 Wall
If you have a blank space you can also add a Christmas wreath to your wall as wall decor. We have the perfect spot in our living room between two windows and it always makes a nice focal point for the room.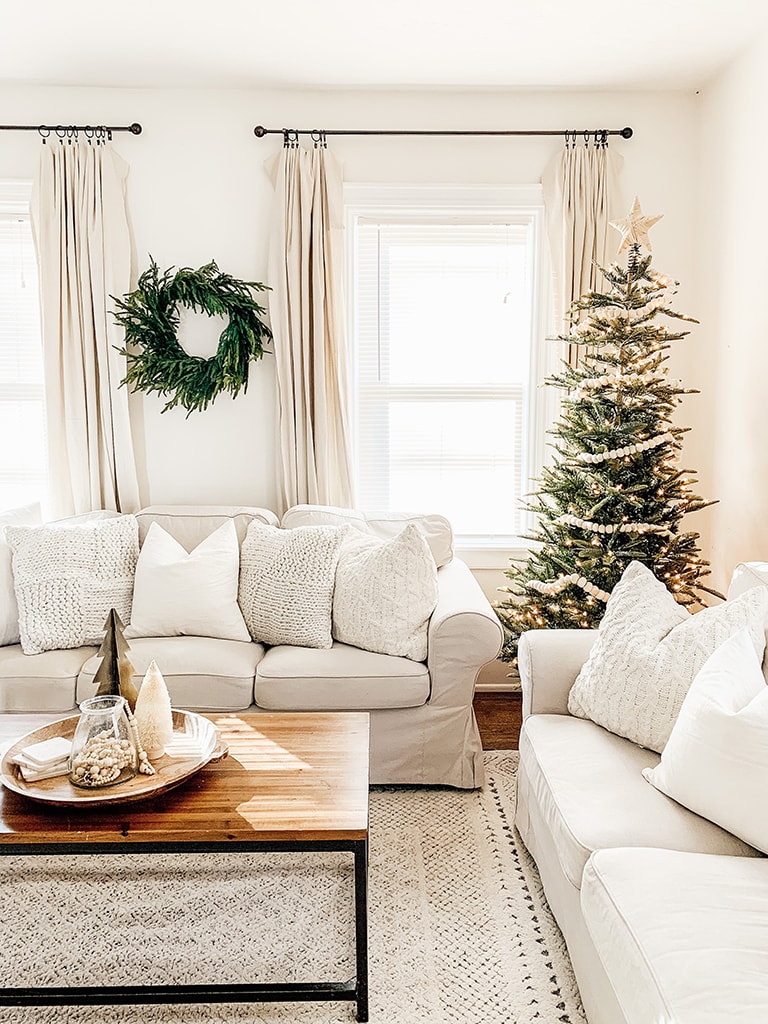 Layer on Art
Last but not least another creative way to decorate for Christmas is to layer wreaths over your existing art. you can use command strips to attach. I love this wreath that lights up. It added the perfect amount of holiday cheer to our existing decor.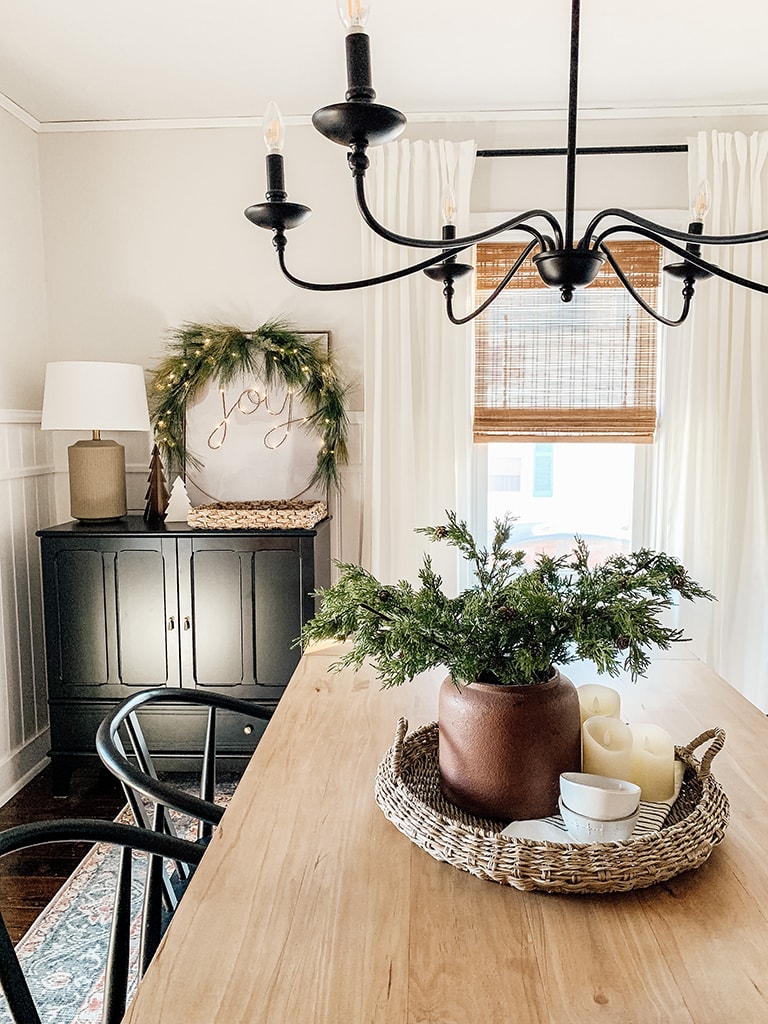 3. Add a Little Sparkle with Lights
One of my favorite ways to decorate for Christmas is to add lights wherever I can. They add that extra cozy magic for the holiday season. The best part is they can be used in other places besides your Christmas Tree. Here are some creative ways I have added lights to my home.
Twinkle Lights in a Jar
Looking for a little twinkle in a centerpiece for your dining or coffee table? Maybe you have an open spot on your entryway console or open shelving. All you need is a clear glass vase of any size and you can add a string of battery-operated twinkle lights.
I love these battery-operated lights because they come with a remote and have multiple settings.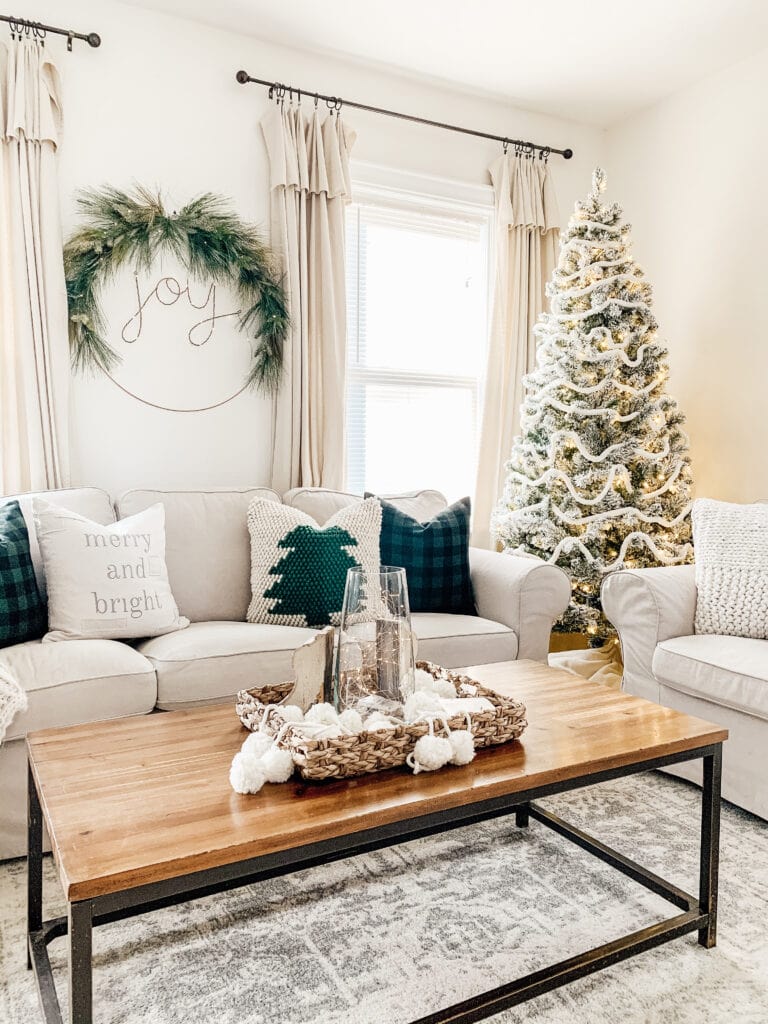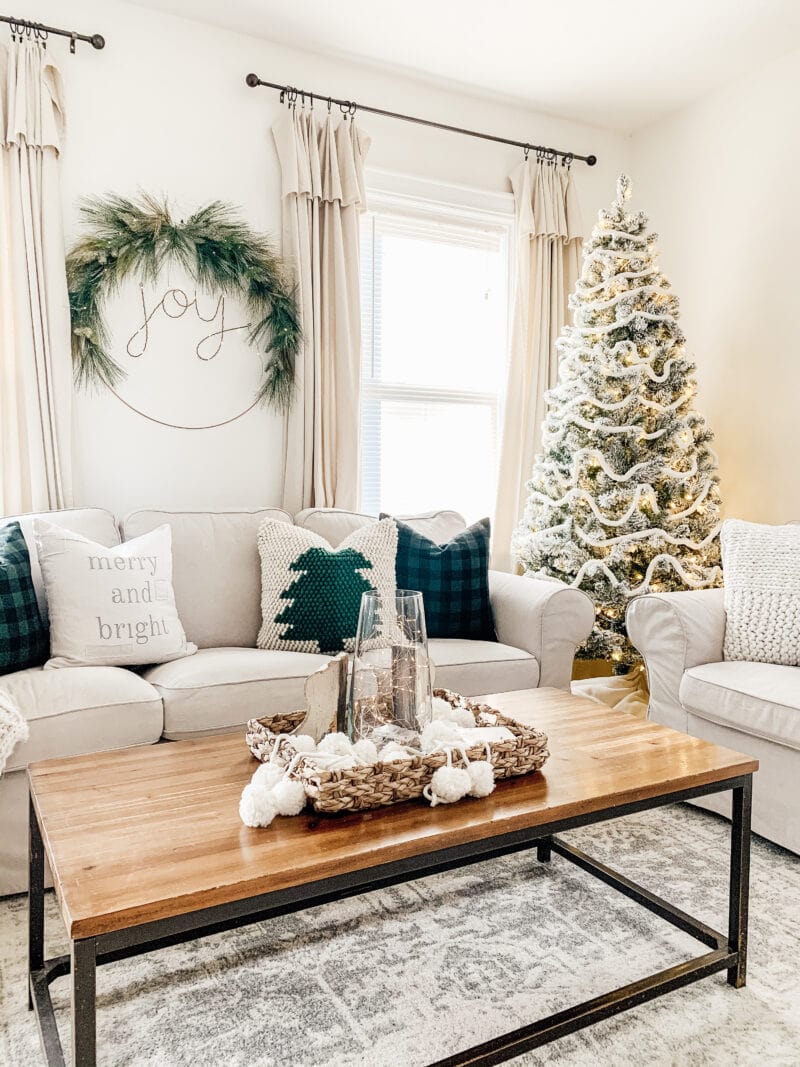 Twinkle Lights on Open Shelving
Do you have open shelving in your kitchen or maybe in another spot in your home? This is another great spot to add some cozy lights.
In my home, I like to string twinkle lights throughout the open shelving in my kitchen. I even thread them through our plants to add a little Christmas magic to our existing decor.
I also use these battery-operated lights on my shelves and just hide the battery pack behind a decor piece.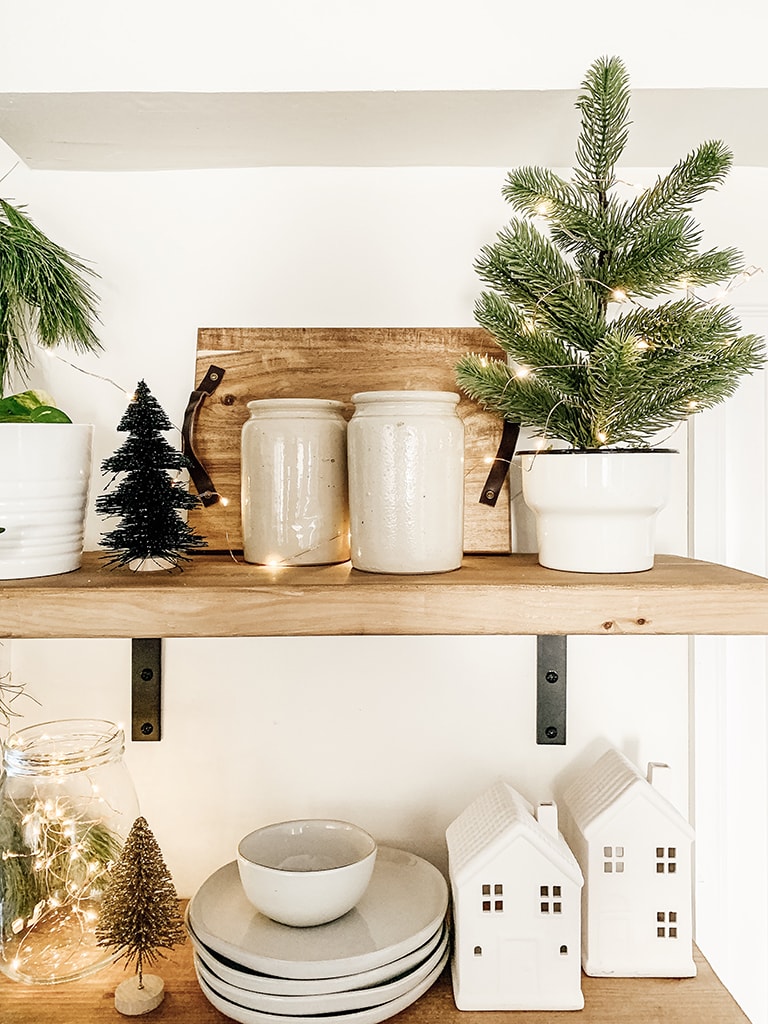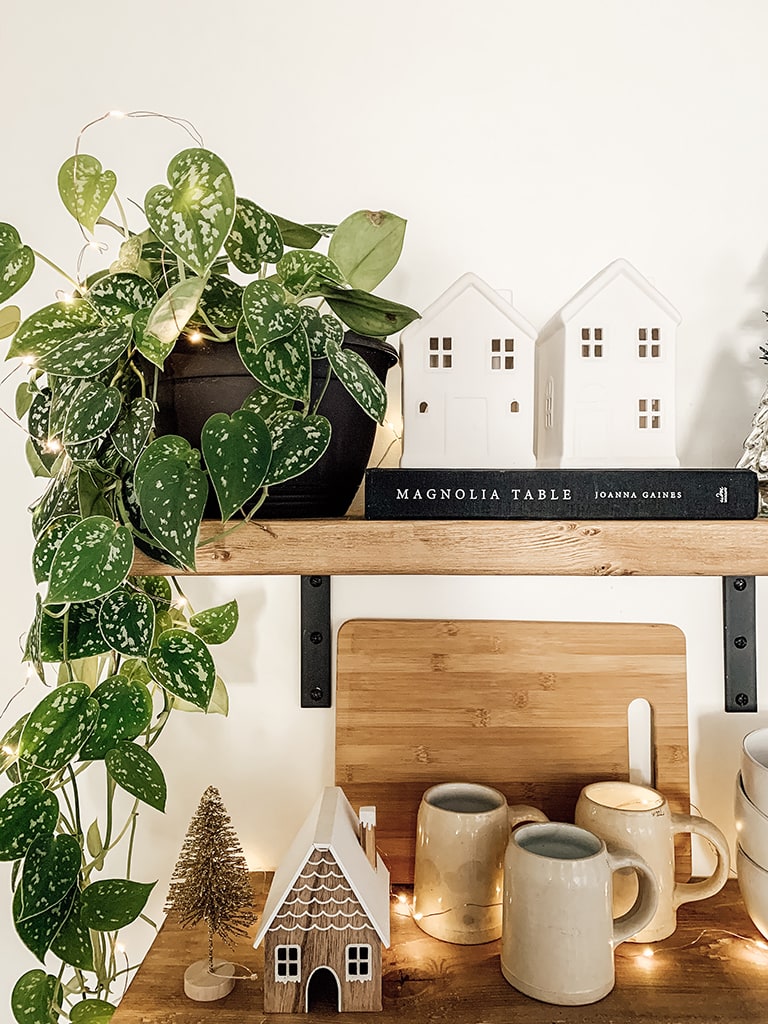 Lights on Your Wreaths & Garland
Another more common way to add lights is to weave them through your wreaths and garland. The best thing about this is you can buy garland and wreaths that already have lights. Making your Christmas decorating that much easier. If you are looking for a more budget-friendly option you can always add inexpensive string lights on your own.
I love adding this prelit JOY wreath to our space.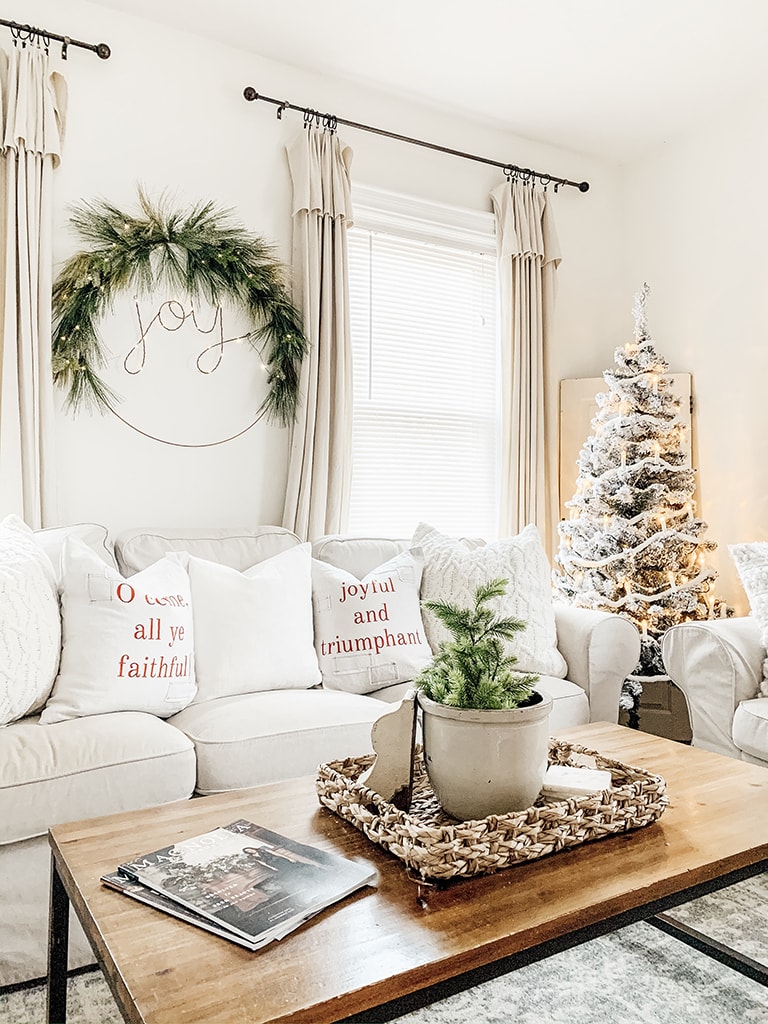 4. Layer in the Garland!
Garland is a simple way to decorate your home for Christmas. You can add it to a variety of places in your home. And there are so many options, flocked, real, prelit in a bunch of different varieties. Here are some examples of how I have used garland in my home.
Add Christmas Garland to Windows
I love adding fresh pine garland to the window in my kitchen. Not only does it make the kitchen smell amazing. It is a simple way to add a touch of Christmas to your kitchen. A space that can be hard to decorate. You can add garland to any window in your home but this is my favorite spot.
Related: 5 Christmas Kitchen Decor Ideas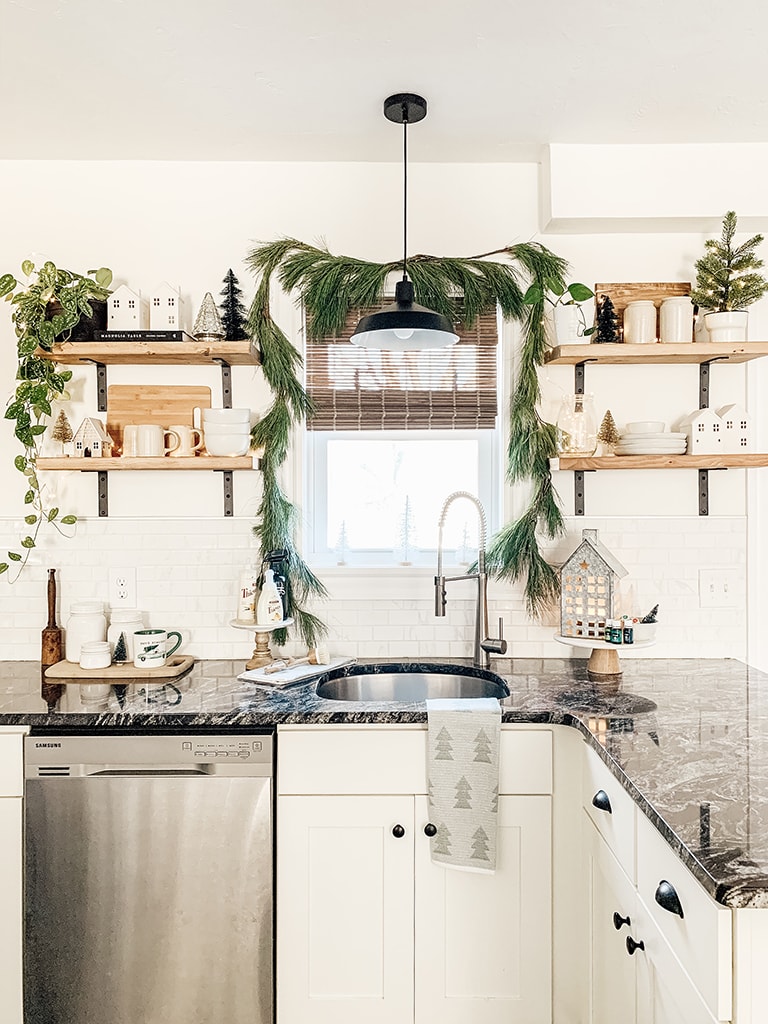 Hang Garland on Stairs
Another fun way to add garland to your home is on your stairs. You can hang garland from your stair banister.
My favorite way to hang garland on stairs is to attach it to the top and bottom of the stairs and then in the middle. creating two swags. I attached using ribbon and added large bows to hide where I attached to the rail.
Another way to hang garland on stairs is to twist it around your banister. This would look really pretty with a pre-lit garland.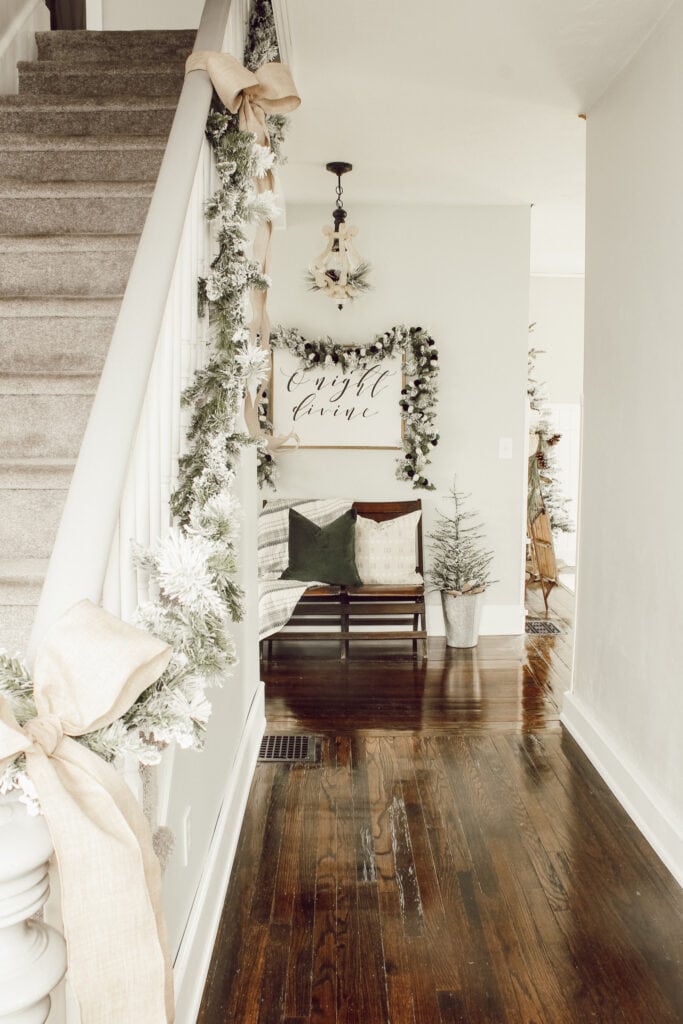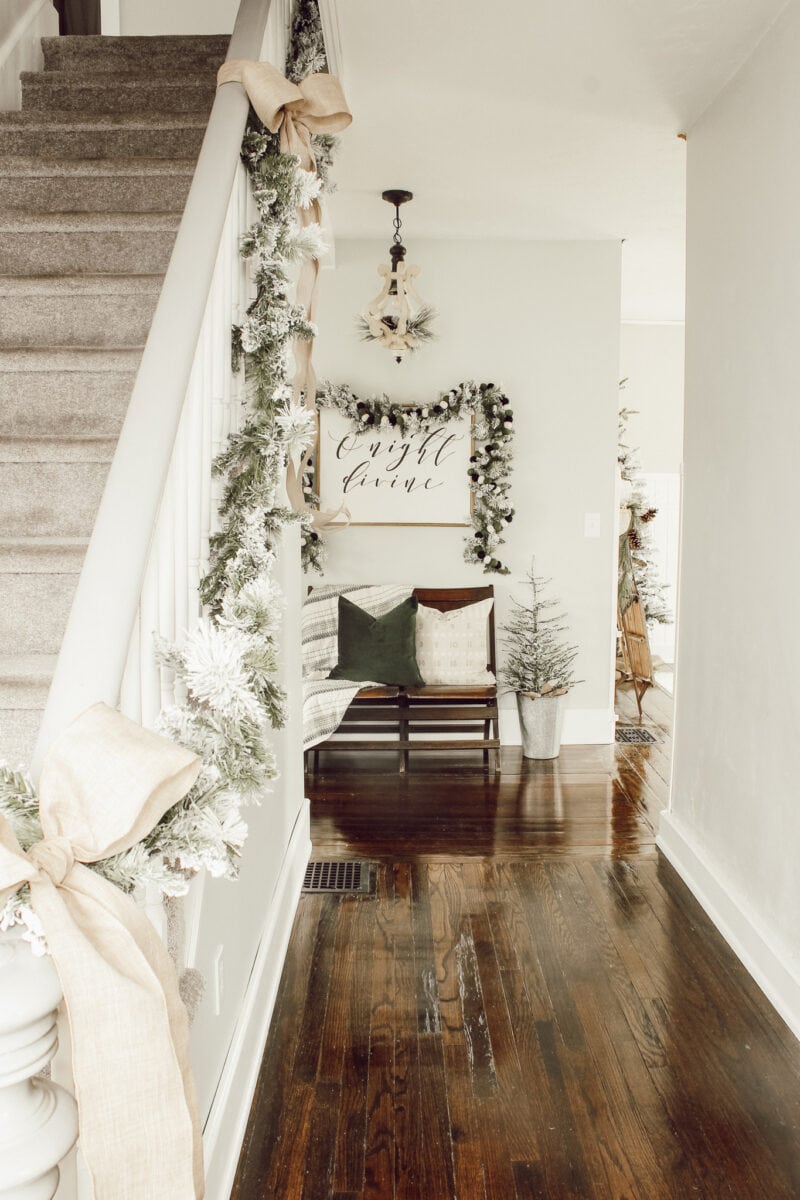 Use Christmas Garland in a Centerpiece
Looking for an easy dining room table centerpiece? A Christmas garland can be the perfect addition. I love using it as the main base for my centerpiece. Once you have the garland you can layer candles or other Christmas decor for an easy Christmas centerpiece.
Check out this post for candle stick holder details.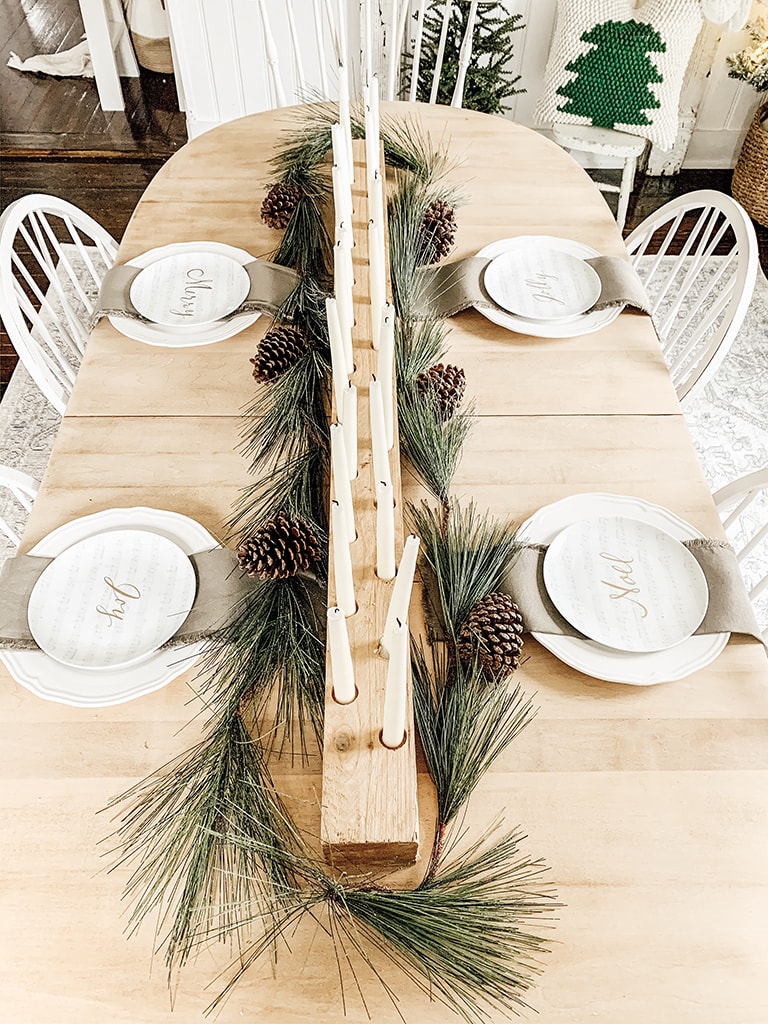 Hang Garland on Mantel
Decorating your mantel for Christmas is a must. Garland is the perfect layering piece for your mantel. I often like to start with the garland first and then add all my other elements.
Garland also doesn't always mean greens. You can use bead garlands, felt ball garlands, the options are endless. I like to add a variety of garlands to my mantel and layer them creating interest.
Related: Rustic Christmas Antique Mantel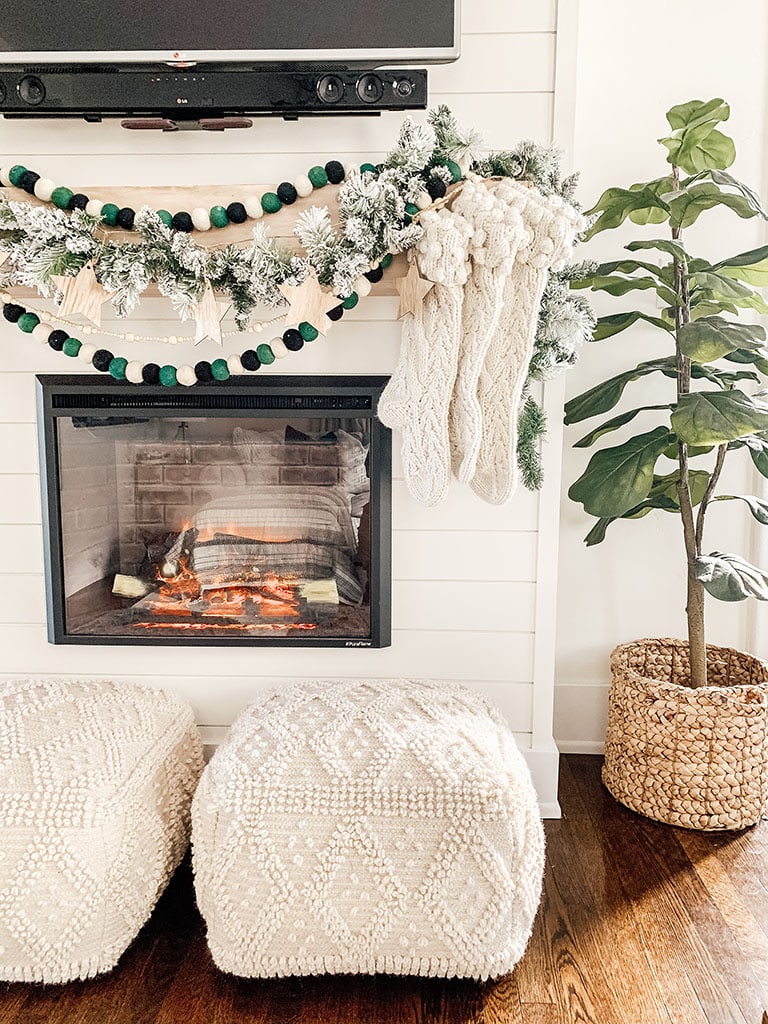 Christmas Garland on Mirror!
This is a fun way to use garland and something you may have never thought of before. If you have a mirror in your entry way or as a focal point in another part of your house consider adding some garland.
I like to wrap garland around the round mirror in our entry and it instantly adds that Christmas magic. You can find the garland I used here.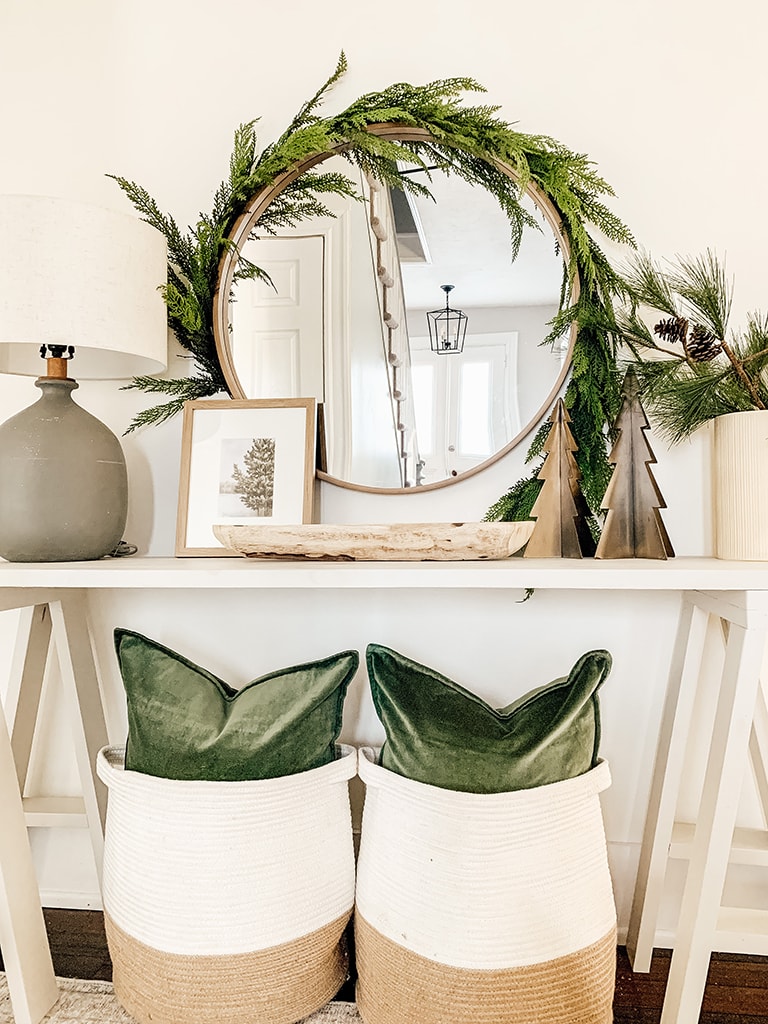 5. Add in Holiday Decor
The possibilities are literally endless when it comes to holiday decor. Mini trees, candles, figurines, and wall art just to name a few. The options can feel overwhelming but stick to a few different items that fit your style and layer them into your home.
Here are some photos of different ways I have used holiday decor in my own home.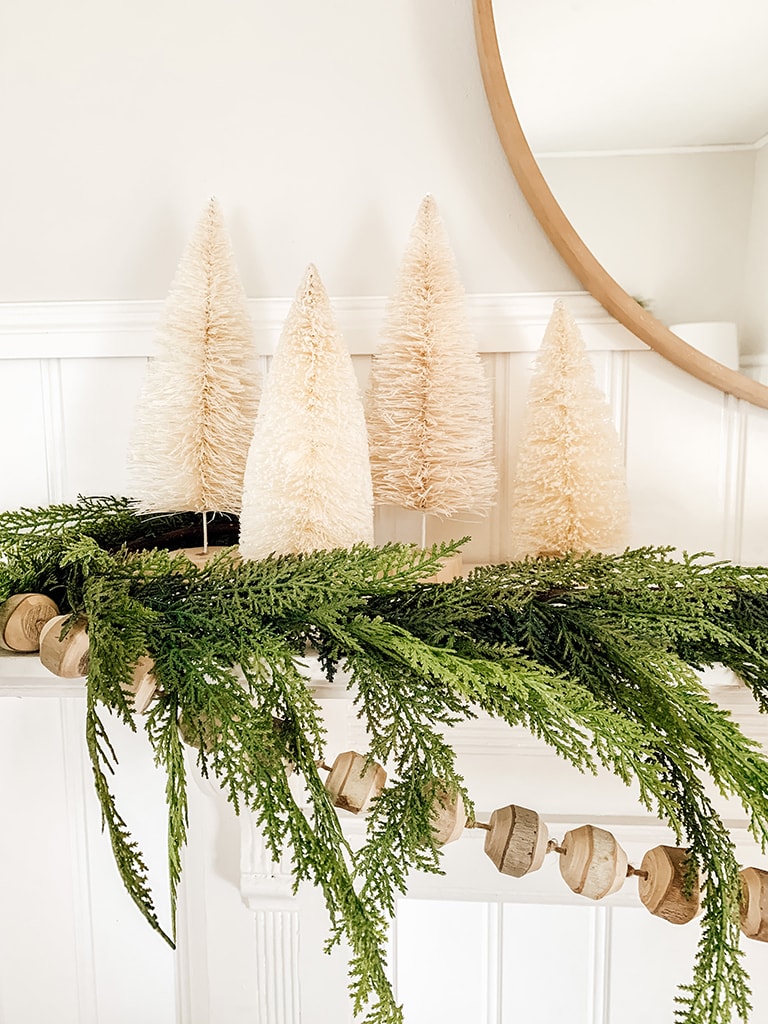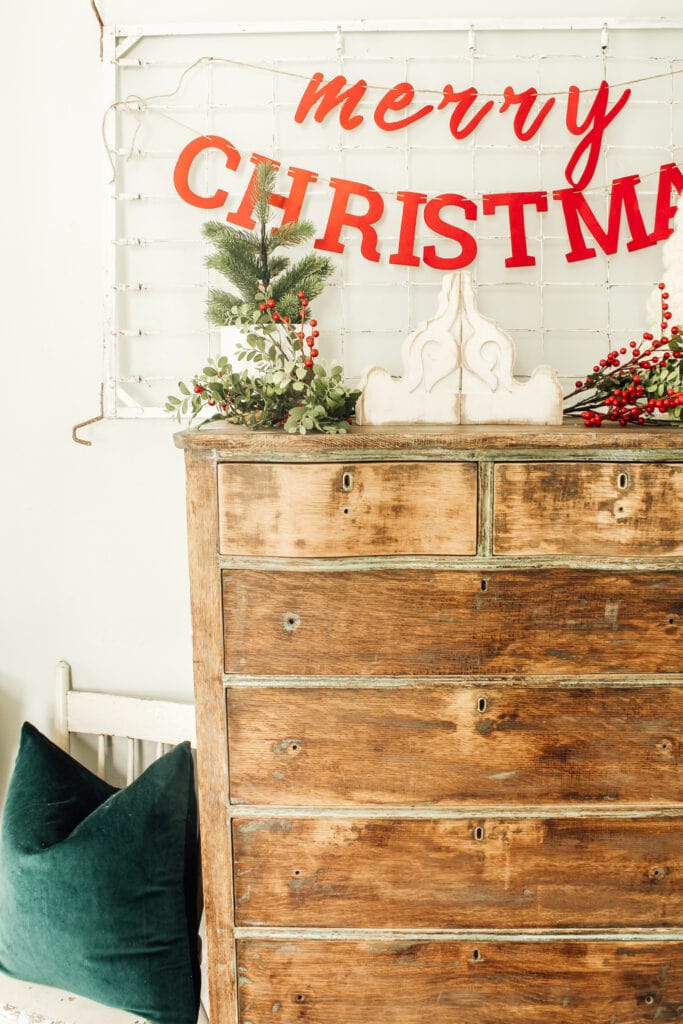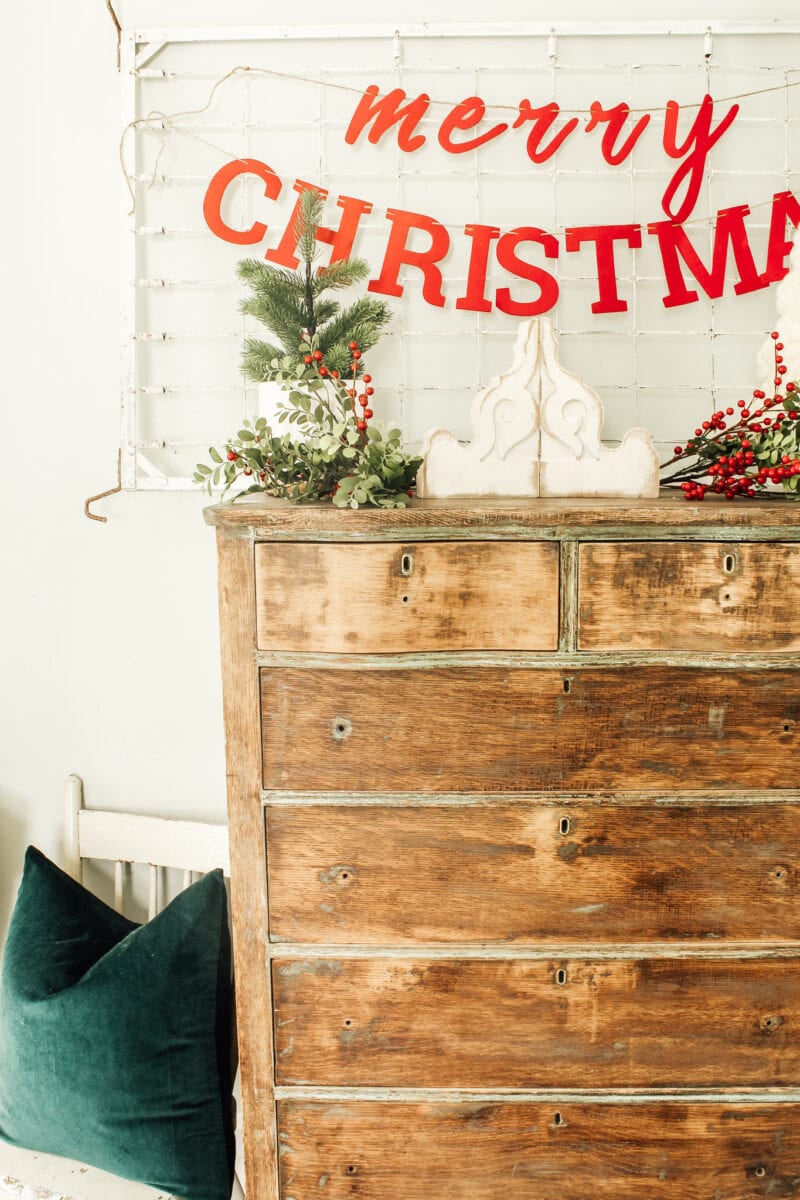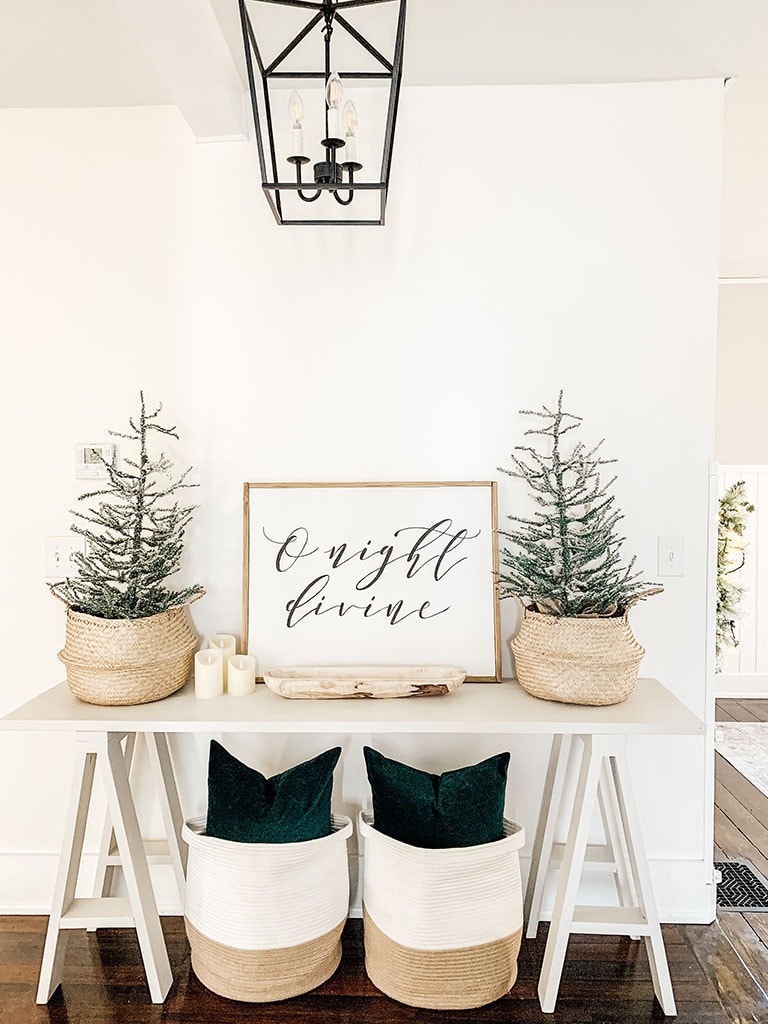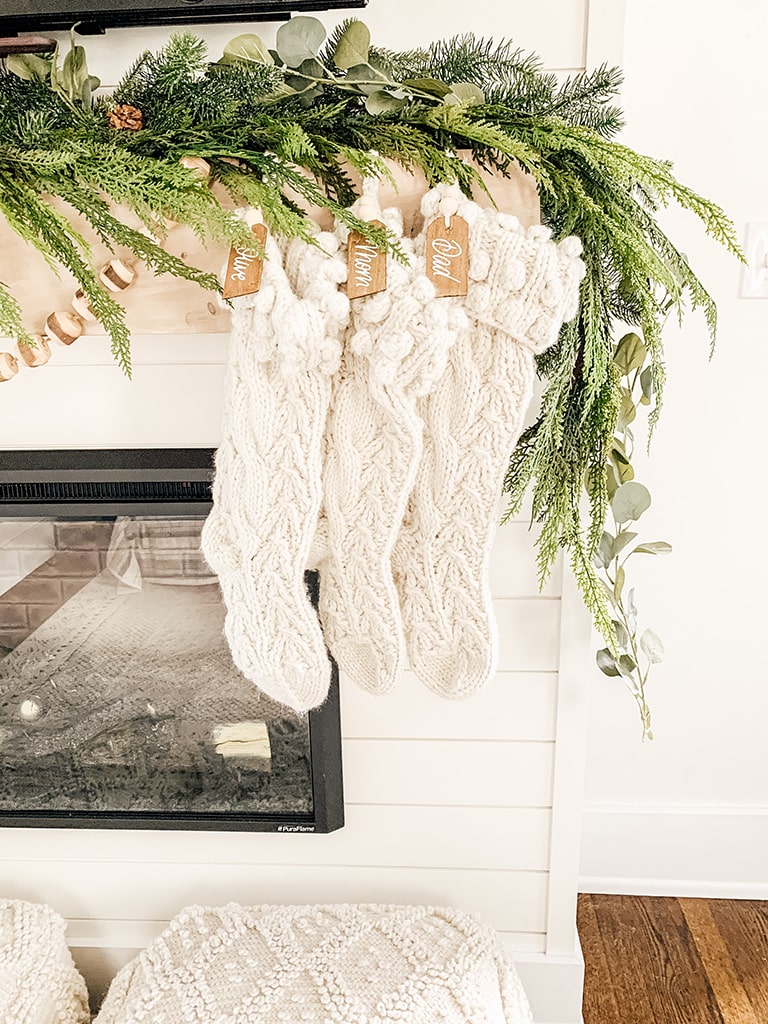 6. Pillows & Throw Blankets
The last step in decorating your home for Christmas is to add cozy pillows and throw blankets. Nothing says cozy like throw pillows!
There are many festive throw pillows and blankets on the market. It can be fun to sprinkle in some of those Christmas-themed items. But I recommend choosing throw pillows and blankets with transitional patterns and textures.
This will allow you to use them throughout the winter season and not just for Christmas. Think cozy neutral knits, solid velvet, and chunky woven textures.
Two Ways to Style Pillows & Blankets
1. On Furniture
2. In Baskets
See examples of both below!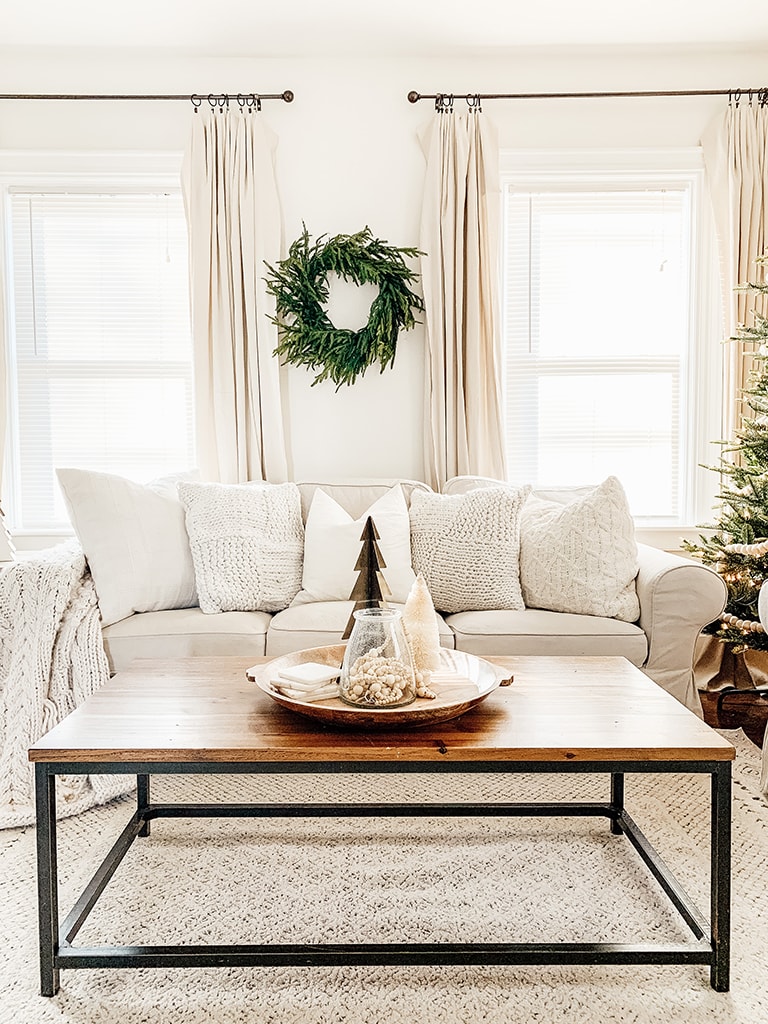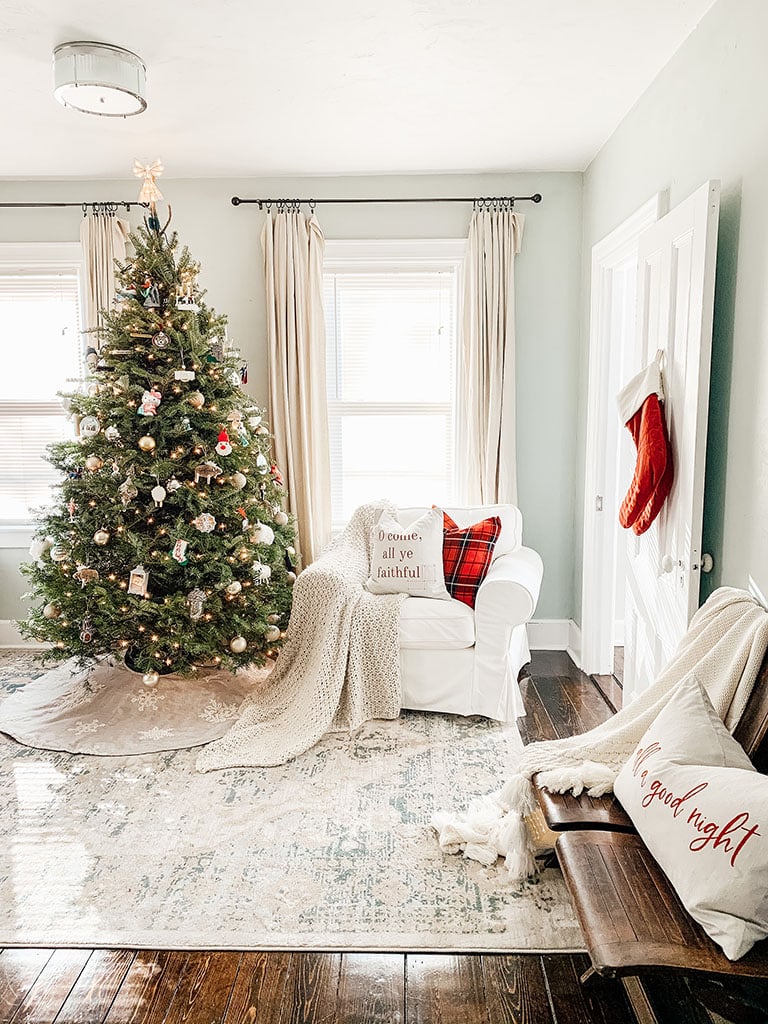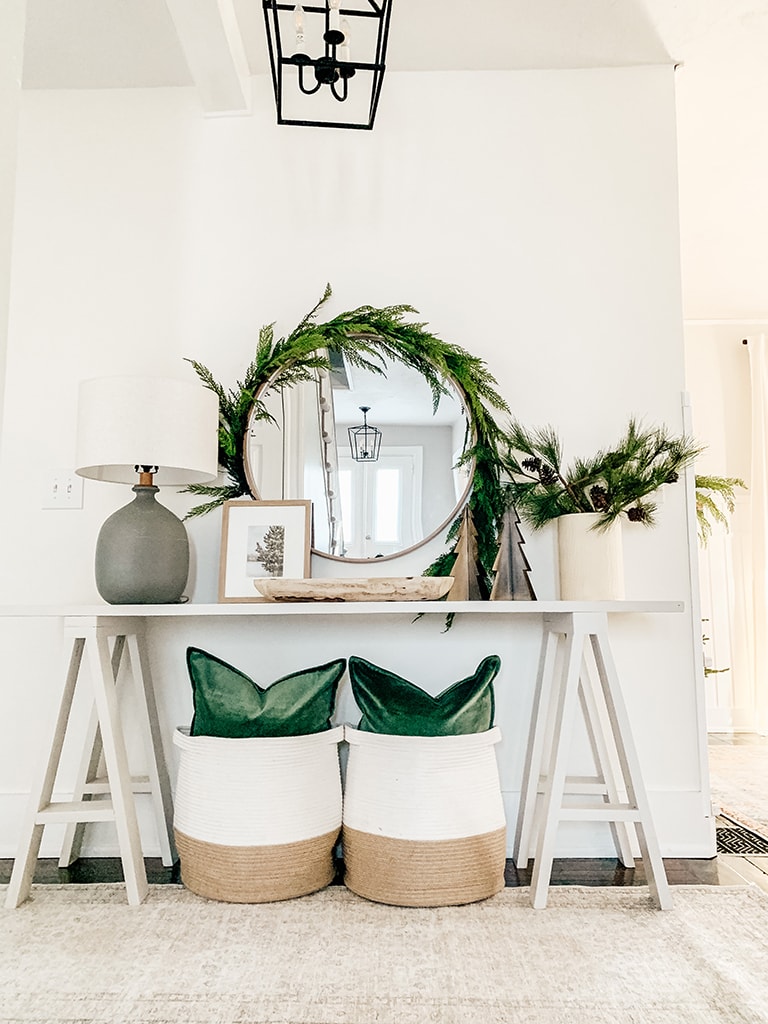 I hope this how to decorate for Christmas guide was helpful and gave you loads of inspiration for decorating your home for Christmas this year. I would love to hear your favorite ways to decorate for Christmas or new simple Christmas decorating ideas you found in this post. Leave them in the comments!
See some thing you like in this post. You can shop my home HERE
What to Read Next:
Modern Farmhouse Christmas Decor Shopping Guide
Simple Christmas Decor Tour
Christmas Home Tour 2020
Simple Winter Living Room | How to Decorate After Christmas
Want to save this for later? Post this How to Decorate for Christmas to your favorite Pinterest Board!